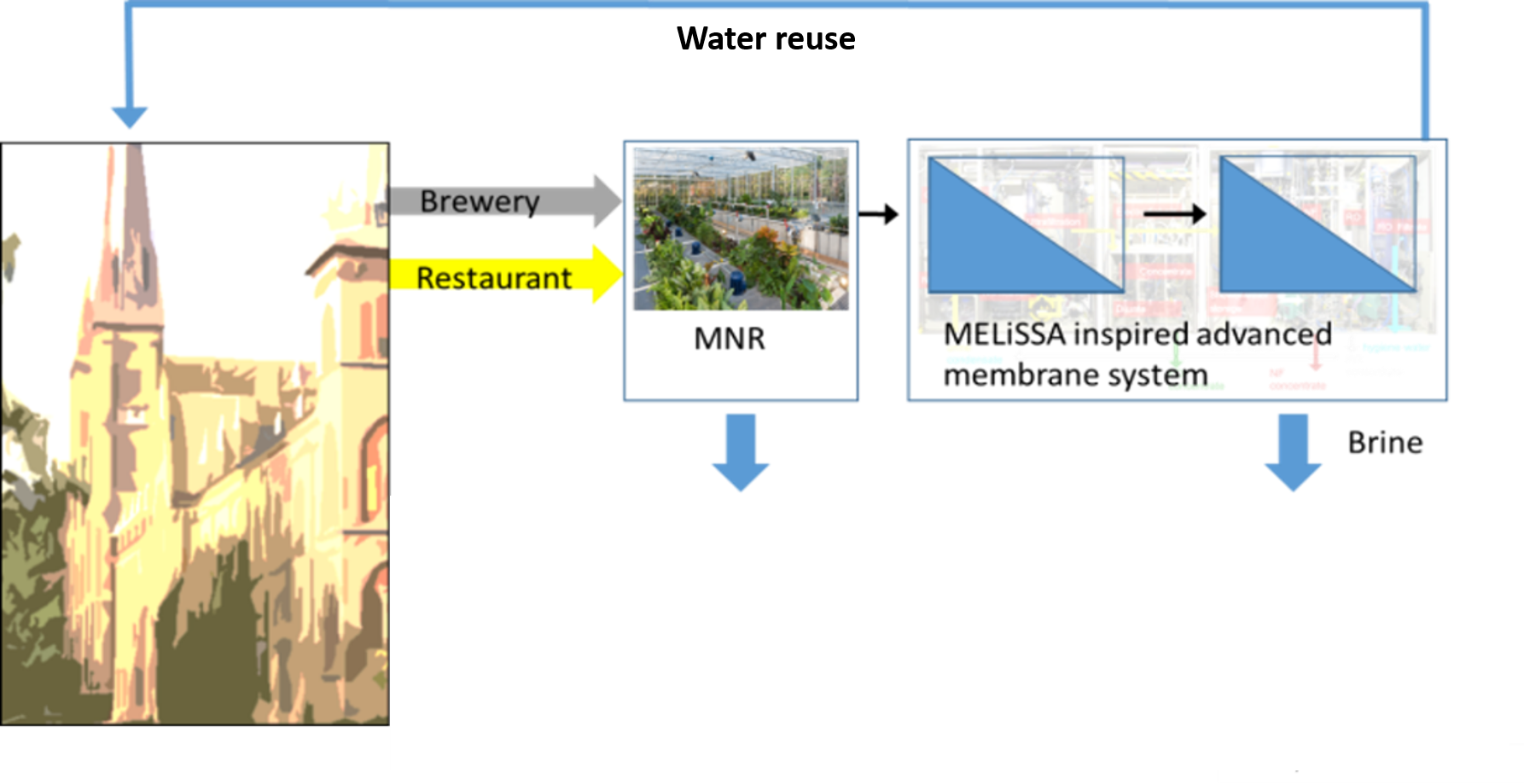 Unique selling points
Upcycling of wastewater to high quality water supply at high recovery

Compact, efficient, and environmental-friendly alternatives to conventional treatment technologies designed for off-grid/ decentralized settings
The micro-ecological life support system alternative (MELiSSA) advanced separation system is designed to treat wastewater based on a two-stage approach comprised of nanofiltration and reverse osmosis and produces fit-for-use water.
Capacity
100-150 L/hr
Description of the technology
Micro-ecological life support system alternative (MELiSSA) is a bioregenerative life support system established by the European Space Agency (ESA) for the complete organic wastes (gas, liquid and solid) recycling during long distance space exploration. MELiSSA advanced separation systems consist of either ultrafiltration (UF) or nanofiltration (NF) combined with reverse osmosis (RO), which are membrane filtration technologies. Each process uses the ability of the membranes to differentiate and selectively separate dissolve solids and water. Both processes require pressure to move water across the membranes, and other compounds on the retentate side of the membrane are discharged to the environment (Flow scheme of the technology). While operational conditions for NF and RO are very similar, the removal efficiencies for NF and RO membranes are different. NF membranes are capable of removing larger divalent ions such as calcium sulphate while RO membranes are very efficient at removing all ions due to its small pores (<0.1 nm) compared to NF membranes (500-900 Da). In MELiSSA advanced separation systems, the NF process acts as a pre-treatment process with higher fluxes and adequate rejection rates of organics and divalent ions selectively. Thus, the RO process can be operated at lower pressures, resulting in lower investment, operational (energy) and maintenance costs. By coupling the Metabolic Network Reactor (MNR) with MELiSSA advanced separation and photobioreactor-based technologies for upgrading of brine a novel integrated treatment train is tested to recover water and proteins from wastewater. Treated water can be used for non-potable purposes (e.g. irrigation water and potentially further upcycled) and nutrients recovered from the water can be converted into fertilisers (e.g. slow-release fertiliser).
Flow scheme of the technology

Pictures
Synergetic effects and motivation for the implementation of the technology
Save on operational costs and reduce footprint
Advanced separation technologies, NF and RO, are capable of removing many contaminants, including hardness, heavy metals, organics, and total dissolved solids (TDS). Although traditional separation technologies have shown to have the same ability to remove those contaminants, they often consist of complex physical and chemical treatment processes that require chemicals (e.g. coagulation and flocculation chemicals and ion exchange reagents), energy and maintenance costs and space to accommodate large buildings. NF and RO systems utilise relatively compact membrane modules and do not require the use of coagulation chemicals. Therefore, NF and RO systems can be more beneficial to reduce operational costs and occupy a much smaller footprint.
Technology requirements and operating conditions
NF and RO processes are used for a wide variety of wastewater treatment and desalination for the removal of dissolved contaminants from water streams. The operational conditions are highly dependent on feed water quality. To maintain adequate rejection rates in the processes, the applied pressures for the NF and RO processes should be sufficiently higher than the osmotic pressure of the feed water. The osmotic pressure can be estimated based on feed water characteristics, mainly salinity. In addition, the quantity of brine depends on the plant's treatment capacity and its recovery rate. Lower recovery rate leads to higher brine volume with lower salinity and vice versa.
Key performance indicators
Parameter

Units

Average

Reference

Nanofiltration

N-total

%

4

N-[NH4+/NH3]

%

5

N-NO3-

%

3

N-NO2-

%

51

COD

%

37

Ca2+

%

42

K+

%

3

Na+

%

5

Mg2+

%

8

P

%

29

Cl-

%

5

S - SO42-

%

28

Reverse Osmosis

N-total

%

91

N-[NH4+/NH3]

%

66

N-NO3-

%

92

N-NO2-

%

97

COD

%

95

Ca2+

%

96

K+

%

94

Na+

%

96

Mg2+

%

98

P

%

97

Cl-

%

93

S - SO42-

%

96
Links to related topics and similar reference projects
| | |
| --- | --- |
| Membrane-based technology | Reference |
| Reverse Osmosis | Case study "Costa Brava" (NextGen) |
Case Study applying the technology
Publications
Lindeboom, REF De Paepe, J Vanoppen, M Alonso-Fariñas, B Coessens, W Alloul, A Christiaens, MER Dotremont, C Beckers, H Lamaze, B, A five-stage treatment train for water recovery from urine and shower water for long-term human Space missions, 2020
Plana Puig, Q., Nanu, C., Groza, I., Soares, A., Vale, P., Monokrousou, K., Makropoulos, C., Katsouras, G., Tsalas, N., Tazes, N., Tsimnadis, K., Lindeboom, R., Plata, C., Suters, R., Kenyeres, I., Plà, M., Filipsson, S., Hedman, F., Kim, J., Hofman, J.,, D1.3 New approaches and best practices for closing the water cycle, 2022
Cross-links
The following processes can be combined with this one and might be of interest for you: